It had been about 10 years since Pearl and Pearl was my previous puppy, so like every new parent, I read a lot of books and online resources, and assumed the worse. I was convinced that my puppy was going to be an escape artist like Sophie had been and chew on everything. (One of these two things did wind up being true.)
I followed the books' advice and removed anything loose from open shelves. I hid my couch pillows, moved all my plants upstairs, and tied up all my electric cords. However, I still had curtains and blinds within reach and an enterprising puppy might even try the electric cords. Unfortunately, all my outlets are like 6 inches from the floor (even the light switches in my house appear to have been installed for children) and my home has very few ceiling lights, so I couldn't remove the cords entirely. So I solved this by installing many, many gates.
I have a 108″
GMI Keepsafe extension
 gate across the end of the kitchen. This was my plan to keep her restricted and keep her out of the open kitchen shelves I had.
I also have a 48″
Munchin Easy Close Tall and Wide
 gate across the kitchen entrance. I added this after two months, once I began to trust her outside of her crate while I went on short trips to the store or to my Zumba class.
Finally, I have a 40″
Summer Infant
gate across the base of my stairs, which I even reinforced with extra mesh and fence panels via zip ties. I took the extra panel off once I was certain she couldn't get through the slots. This was to prevent her from going upstairs where I had wall-to-wall carpeting. (Ayla loves carpeting. But as a wee tot she also loved peeing and chewing on carpet and rugs.)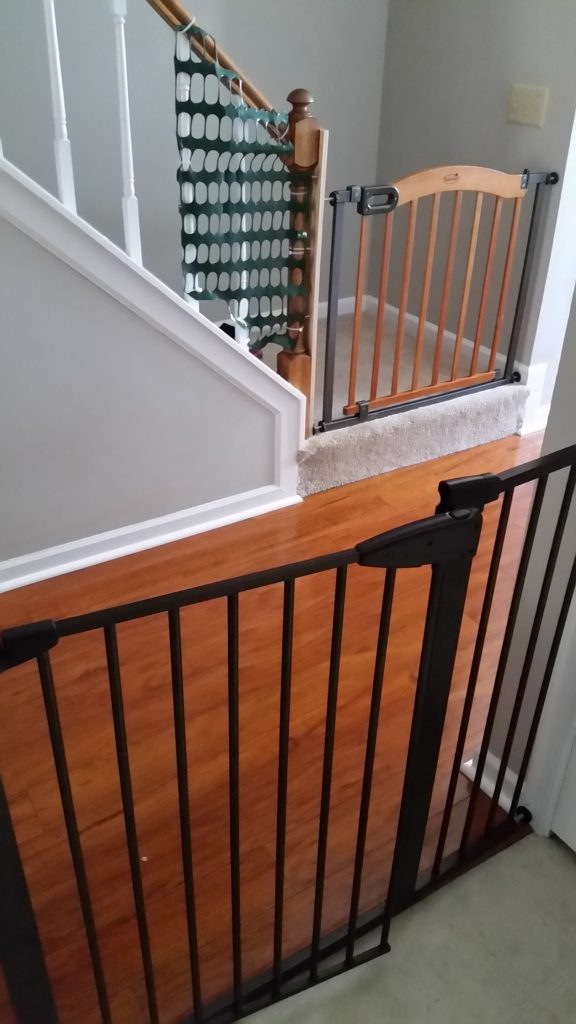 If you're wondering why I have two kitchen gates, initially my plan was not to crate Ayla. I wanted to do crate training, but I couldn't figure out how to pull it off. Dog walkers were pretty expensive. I was floored when I found out my Corgi friend paid $550/month for two 20 minute walks a day. (I was so naive.) But I knew based on my reading that an eight-week old puppy wasn't going to be able to hold it's bladder even four hours in between a single dog walk. Thus, I temporarily relocated my kitchen table to my living room and installed a 108″ extension gate across the end of the kitchen. I ordered that off Amazon Wholesale as new "used." Unfortunately, I forgot to open the box until my 30-day return window had passed and I was missing all the hardware. I tried DIY with hardware from Lowe's and I drilled a lot of random holes in my walls trying to install that before I gave up and ordered the part kit from GMI. It's a good thing this is my house, so I can at least own my holes.
The extension gate fenced off about 5 x 8 feet of space in the kitchen. I had already purchased a
Perla
bed per recommendation from my breeder and I figured I would put that in the space and go the pee pad route. My next challenge was that my kitchen has two recessed windows that nearly touch the floor. I also usually keep blinds drawn to 1) block some of the sun I get during the day and 2) stop people from seeing into my home. I figured puppy + blinds would not end well, so I found
tinted window film
that blocks 50% of UV light, and prevents folks from seeing into the house. I was hoping it would also blur the view out, but no such luck. There were some really cute, more opaque patterns at Home Depot for window film, but fewer options if you wanted removable film and I'm hoping not to have the blackout film on my windows indefinitely.
Since the film didn't block the view, I figured my pup might also paw at the windows because there would be excitement that she could see. Birds! People! Garbage trucks! I spent quite a bit of money on Plexiglas, which I then cut to fit across the bottom portions of my windows and the length of the window seat. Pro tip: YouTube suggests you can cut Plexiglas with a razor and it only takes 15 minutes. Score 10 times, break along a edged surface, all done! Lies. Get yourself a Plexiglas knife. It's worth it and you might not accidentally stab yourself in the hand with broken Plexiglas while attempting to break it evenly. Much less blood. Also, throwing your body across the portion of Plexiglas you don't want to break gets you a cleaner edge when you attempt to bash off the other portion (YouTube suggests a work bench, I used my kitchen counter.)
I did all this puppy proofing over the course of a month in anticipation of my pup. Then about two weeks before I was due to pick my pup up, I talked to my Godmother about puppy rearing. (She has had many years of raising Seeing-Eye Dog puppies under her belt.) She sent me an email with lots of good advice, but she also recommended crate training. This was the same advice that my Corgi friend had given me, and man, I really did want to crate train. I truly believe in crate training. I think it prevents dogs from destroying your home, helps teach house breaking more quickly, and keeps them safe. But I also felt pretty darn guilty about trying to crate train as a single working dog owner.
I was also starting to think that 5 x 8 ft was too much space for proper housebreaking because the dog would have plenty of space for their bed and plenty of space to go to the bathroom indoors. Why would they want to try to hold it? I decided to buy an
IRIS plastic fence
 (pink is cheaper than blue) and I planned to put that inside the expansion gate. I reasoned this way I could put a crate and a pee pad in that fenced space and my pup would just have to either be in their crate or on the pee pad. This didn't work out as the dog crate was too big to fit inside the fence. The IRIS gate did not go to waste though. I dismantled it and zip-tied a section to the Summer Gate, and blocked off shelves.
But meanwhile, as I went for broke on how many fences one could install in their home, I was also researching dog walkers. I had started to contemplate the crate training plus two walks a day method. I had done my finances and determined that as long as I didn't exceed $30/day, I could cover two walks. I asked a neighbor. Her schedule was too erratic. I found a gal on
Rover.com
who did $10/20-min walk, which was a real bargain compared to the $25/15 min walk folks also in the area. Unfortunately for me, she'd just gotten a full-time job. I found another pet service who offered a 10-minute walk for $10. They didn't service my area. I asked on Nextdoor for recommendations, and simultaneously found another company through Yelp that I had missed the first time. I emailed two more companies. Two days later and neither company had responded. By now I was panicking a little, because I hadn't expected to strike out five times. But then the Yelp one came through and I immediately scheduled with them. I think some people do interviews with dog walking services, but I was about to get a puppy in less than a week! They had a nice package deal of five 20-min walks for $13/walk and an app that tracks the walk, so I immediately scheduled. My decision to do two walks and crate training might not work for everyone, and I had to follow a pretty tight budget to pull it off. I no longer flinch at paying $550-$572/month for walks and I believe it was one of the smartest things that I did in the early puppy months. While we had some crate training adventures, I had Ayla housebroken in a month. And with a fixed routine, at the end of 4 months, I was able to drop down to a single walk midday and leave Ayla loose in my kitchen for the first half of the day.